Description
50% off from Black Friday continues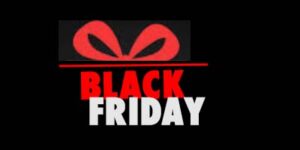 LiveJasmin is one of the top webcam sites period. In our review of LiveJasmin we looked at everything from the user interface, video quality, volume of models, costs, and reliability. Starting with the software interface, it is perhaps the best anywhere (if you are a software developer you probably will appreciate the quality of the coding!). Video quality is excellent and also one of the best things about LiveJasmin. The chathosts can be can be filtered using a number of quick left side bar options and a search function let's you filter down to things like build, hair color and region the girl is from.
Live previews are really well done. From the main page or any filtered set of chathosts you can simply role you mouse over a chathost thumbnail and it instantly gives you a live view. Click on any thumbnail view and you can get to the chathosts profile page that includes the live view and also a basic profile include ratings, age, and short description, plus public profile pictures. For the purchase of credits once you have become a member you can access private content and photos. Also you see when a given chathost you might like is normally online.
Discounts are often offered for new subscribers.
Signup is easy and initially you don't have to spend anything, but like most sites you will need to provide a credit card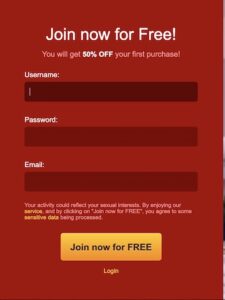 When you signup, you will be greeted with a nice automatic reward, 50% savings: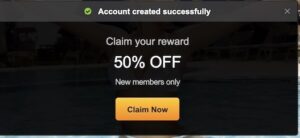 Another big plus, you have the option to pay with PayPal.
Costs
Costs are relatively high. There definitely are less expensive options out there. But you are paying for a higher quality of service that is definitely there. And believe us, you can find a lot there, at this writing there was a chathost in live preview doing full burpees to show how in shape she was. Speaking of costs, so one more super nice feature, you can filter the chathosts by ranges of costs. 0.0 – 0.98, 0.98 – 2.99 all the way up to 9.99 credits per minute. There is also a nice inexpensive option too, filter on the VIP shows. Here these are group shows, the model sets a minimum number of credits, example 12 for a show, each person can get in for 2 credits for a 5 minute show. Credits are about $1.35 each so that's a 5 minute show for just $2.70.
Pros & Cons
Pros
Beautiful software interface.
Scroll over thumbnails to get an instant live view.
Video quality is excellent
Cons
Search feature could offer more categories and have a better design
Search feature could be more accurate. For example searching for "blonde" should only return blonde chat hosts but that often isn't the case